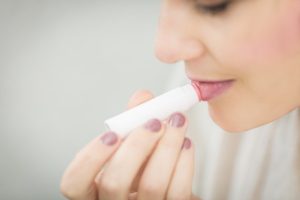 Dry, chapped lips are a common problem. Today, we offer you an uncommon solution. Some patients may find relief from lip dryness after a treatment with dermal fillers. Injectable hyaluronic acid (HA) fillers are often used to add volume to the lips, but they have a lesser-known benefit of boosting skin hydration. Capital Facial Plastic Surgery offers dermal filler treatments using a variety of HA fillers.
Hyaluronic Acid- The Unique Properties of this Naturally Occurring Substance
Hyaluronic acid is the primary ingredient in HA fillers. When patients first hear the word acid, their mind often jumps to a harsh and drying agent, but hyaluronic acid is different. HA is actually a type of naturally occurring polysaccharide (sugar). In the body, it plays an important role in cushioning joints and hydrating the skin.
Hyaluronic acid attracts and retains moisture. Its ability to hold several times its weight in water is one of the properties that makes HA valuable as a filler. As you age the hyaluronic acid levels in your skin decrease. This causes the skin to become thinner and dryer. It also leads to unwanted wrinkling. Injecting HA fillers into the skin adds back the hyaluronic acid that has been lost due to aging. Some patients also find that their skin feels thicker, hydrated, and more supple.  HA also has this effect on the lips, and many patients notice that their lips are less chapped after an HA filler treatment.
If your only problem is chapped lips, using hydrating lip creams and balms is probably your best solution, but if you're thinking about fillers anyway, you may also experience the benefit of added moisture to your lips.
HA Fillers for Lip Enhancement
HA fillers are injected into the lips through a series of small injections. They offer results that last for 4-6 months and are very smooth and natural-looking. Our patients choose lip injections to enhance the shape and size of the lips or to fill in wrinkles on the lips or around the mouth.
We use a few different fillers for lip enhancement including Volbella and Restylane®. These fillers are both hyaluronic acid based. Dr. Singleton will discuss options and help you choose an appropriate filler option.
Other Uses for HA Fillers
Our hyaluronic fillers are versatile! Don't limit your use of them to only the lips. Fill in hollows, smooth creases, and restore volume across the entire face. Dr. Singleton performs all our filler treatments himself and uses his deep understanding of facial anatomy to ensure smooth, natural-looking results for every patient.
If you don't love your results, most dermal fillers can be deactivated using a simple injection. Our patients are generally delighted by their results and rarely request reversal of a filler treatment.
Surgical Lip Enhancement Options
While we love lip fillers, we also offer other options for lip enhancement. A sub-nasal lip lift can lift the lip, making it appear higher and fuller. This is a more permanent option for lip augmentation than dermal fillers. A small incision is required, hidden under the nose. The procedure is performed in our offices, using local anesthesia. Downtime is minimal, and some swelling may be present for about two weeks.
This option won't enhance lip hydration but does permanently create a fuller looking lip, without the need for regular retreatment like dermal fillers.
Luscious lips can be achieved using HA fillers. These powerful fillers add volume and structure to the lips while increasing hydration of the skin. Schedule your lip filler treatment at Capital Facial Plastic Surgery in Chevy Chase, MD by calling 240-630-2449.