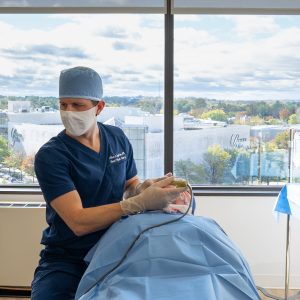 One of the best things about today's highly advanced cosmetic procedures is how they can be combined to produce the best results. Nowhere is this more evident than in EmbraceRF, an innovative technique that makes use of two FDA-approved therapies to give patients the beautiful, younger-looking skin they desire.
EmbraceRF combines Morpheus8 RF Microneedling and FaceTite/AccuTite to create a versatile technique capable of drastically enhancing your appearance. It specifically tightens the skin and reduces the fat in the face and neck areas to give you a slimmer, younger look.
Furthermore, EmbraceRF is a non-surgical, minimally invasive procedure, which means no large incisions need to be made in the target areas. Therefore, it is far less likely to result in serious side effects and allows for an extremely quick recovery.
But how do you know whether EmbraceRF is the right treatment for you?
Generally speaking, EmbraceRF is the ideal option for people who are troubled by the following: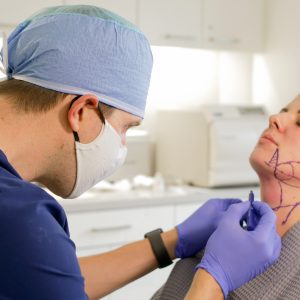 1. Facial and neck wrinkles
The body's ability to produce collagen slows down as we age, which is why wrinkles develop as we get older. Both Morpheus8 and FaceTite/AccuTite, however, use controlled radiofrequency energy to heat subdermal tissue, a process that reinvigorates collagen production. The newly produced collagen then does what it does best: repair and rejuvenate tissue. This reduces or eliminates wrinkles to make way for smoother, fresher skin.
2. Fatty pockets in the face and neck
Stubborn pockets of fat in the facial and neck areas may be resistant to diet and exercise, but they are easily reduced using FaceTite/AccuTite through EmbraceRF. FaceTite/AccuTite not only tightens loose skin; it also contracts and contours fat, allowing it to shave off fat in places such as the nasolabial folds, jawline, and chin.
If we're talking about surplus amounts of fat, however, you're better off having liposuction.
3. Mild to moderate skin sagging
Thanks to the production of new collagen, EmbraceRF can make your skin firmer, stronger, and more elastic. And by reducing pockets of fat, it can also improve the outline of areas previously marked by unsightly, fatty lumps.
EmbraceRF can tighten mildly or moderately loose skin in the face and neck, whether said loose skin is the result of aging or surgery. Extremely loose skin, however, is best treated using a facelift or neck lift.
Frequently Asked Questions About EmbraceRF
Discover answers to common questions about EmbraceRF below. Any questions you may have that you don't see addressed here can be asked during your consultation with Dr. Adam Singleton.
If you have any questions about a procedure or wish to schedule a consultation with Dr. Singleton, please contact our office.
Schedule a Consultation
If you have any questions about a procedure or wish to schedule a consultation with Dr. Singleton, please contact our office.