Dermal Fillers for Non-Surgical Facial Rejuvenation
Facial volume loss causes many of the age-related changes our patients experience including hollowing and sagging of the face. We can restore youthful volume to the face using injectable dermal fillers. Treatment with fillers is quick and easy, often requiring no downtime. They can be used to treat the entire face, from brow to chin. At Capital Facial Plastic Surgery, we offer many top name fillers including Juvéderm® Ultra, Juvéderm® XC, Restylane® Lyft, Restylane® Silk, Restylane® Refyne, and Restylane® Defyne. Dr. Singleton is an experienced injector and performs all filler treatments himself. Our patients love the results they can obtain from this non-surgical cosmetic treatment. Our office provides filler treatments to patients throughout the D.C. area. Call us to schedule your treatment with Dr. Singleton.
What Can Dermal Fillers Treat?
Injectable fillers are versatile and can address a variety of facial aging concerns. At Capital Facial Plastic Surgery, we use face fillers to treat:
Lines, wrinkles, and creases including nasolabial folds
Thinning or downturned lips
Hollows below the eyes
Volume loss in the mid-face
Lip lines
Facial fillers can also be used to enhance the nose in a type of non-surgical rhinoplasty. Dr. Singleton is extremely well trained in the nuances of nasal refinement using soft tissue fillers.
Each filler we offer is designed to work in specific facial areas. For example, Juvéderm® Ultra XC works best on the cheeks and mid-face, while Restylane® Refyne can beautifully enhance the lips. Dr. Singleton will recommend a single filler or combination, depending on your treatment needs.
How Do Hyaluronic Acid Fillers Work?
At Capital Facial Plastic Surgery, many of our fillers contain hyaluronic acid (HA). This is a substance that is naturally occurring in the body. It helps to keep the skin moist, hydrated, and supple. HA fillers contain hyaluronic acid in a smooth, injectable gel. These facial fillers can be used to fill in wrinkles and smooth hollows by replenishing volume in the treated area.
Hyaluronic acid fillers provide a smooth and natural looking result. We're certain you'll love your results, but if you don't, HA dermal fillers are easily reversible with a brief, in-office treatment.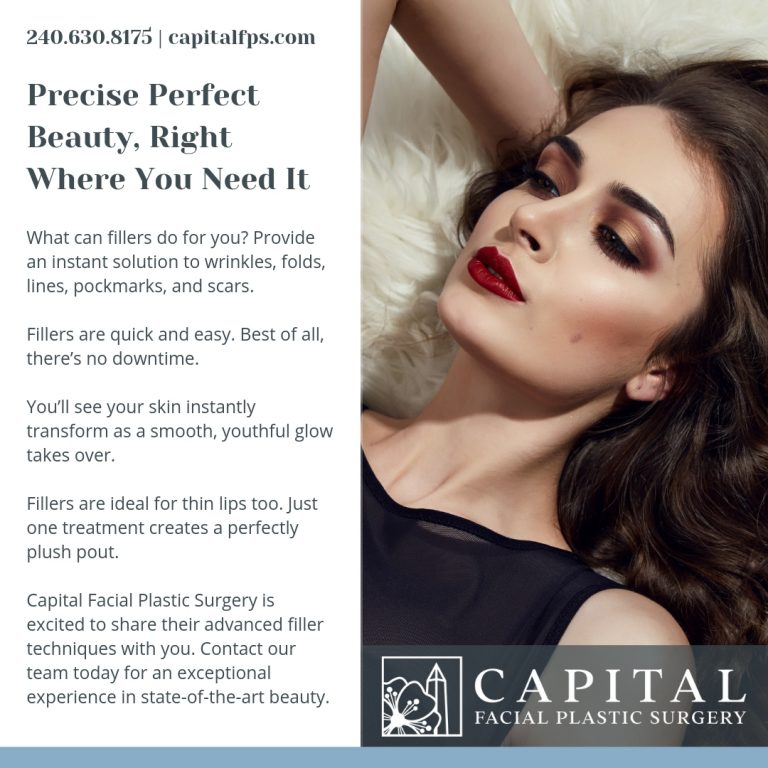 What Happens During a Face Filler Treatment?
All dermal filler treatments are performed in our beautiful office, conveniently located in Chevy Chase. Before we administer facial fillers, each patient meets briefly with Dr. Singleton. He will discuss treatment goals and will choose the ideal fillers for your desired results.
The actual treatment takes between 10-30 minutes, depending on the number of injections needed. You'll receive multiple tiny injections in each treatment area. Some patients receive fillers in many areas of the face, while others may only treat a singular area, like the nasolabial folds or the lips.
One of the primary benefits of a dermal filler treatment is the minimal disruption to your daily life. After your injections are completed, you'll be able to resume your regular activities without the need for downtime. Bandaging is not needed after hyaluronic acid filler treatment. You may have some minor swelling or redness, side effects that usually fade in a couple of days. 
Are Dermal Filler Treatments Painful?
A facial filler treatment will require a series of injections. Most of the fillers we offer contain lidocaine. This minimizes patient discomfort during and after the treatment. Most patients tolerate the injections well and find that the discomfort is manageable, especially since the treatment is over quickly. We can apply a topical numbing cream before if necessary, but most patients do not need it.
After treatment you may experience some tenderness, bruising, or swelling. These resolve quickly and do not typically interfere with work or personal activities.
How Long Until I See Results from My Filler Treatment?
Patients see changes in their appearance immediately after a facial filler treatment. You'll see fewer lines and wrinkles, smoother skin, and less sagging. At first, there may also be some post-procedure side effects like redness and swelling. These fade quickly, allowing your beautifully rejuvenated skin to shine.
We recommend scheduling dermal filler treatments at least a week before a big event. Since results last for several months, you can plan ahead to ensure that you always look your best.
How Long Do Results Last After a Face Filler Treatment?
Our D.C. area patients enjoy long-lasting results from their dermal filler treatments. Longevity varies, depending on the filler used, the area treated, and each patient's reaction to the treatment. Plan on at least 4-6 months of results from a single treatment.
Are Dermal Fillers Right for Me?
Learn more about your options for non-surgical facial rejuvenation by contacting our office. Most patients are good candidates for dermal fillers. We'll discuss your medical history before your treatment to make sure this treatment is a good fit.
Can Dermal Fillers Provide a "Liquid Facelift"?
Many plastic surgery offices offer a "liquid facelift" treatment, a type of non-surgical facelift that uses dermal fillers and Botox® to smooth wrinkles and rejuvenate the face. We often use fillers and Botox® together but dislike the term liquid facelift. Dr. Singleton believes that this term misrepresents the results that can be achieved through non-surgical methods. Fillers can provide dramatic rejuvenation, but they don't replace a surgical facelift.
If you have any questions about a procedure or wish to schedule a consultation with Dr. Singleton, please contact our office.
Schedule a Consultation
If you have any questions about a procedure or wish to schedule a consultation with Dr. Singleton, please contact our office.
Choosing Capital Facial Plastic Surgery for Your Dermal Filler Treatment in Washington, D.C.
Capital Facial Plastic Surgery offers injectable dermal filler treatments to patients throughout the Washington, D.C. area. Our office is located in Chevy Chase, just above the Friendship Heights metro station and is easy to access by foot, car, and public transportation. Let us welcome you into our beautiful office for your non-surgical facial rejuvenation treatment.
We offer many of the top dermal filler lines including products from Juvéderm® and Restylane®. Unlike many plastic surgery practices, all our injectable treatments are performed by our fellowship-trained facial plastic surgeon. Dr. Singleton enjoys being involved in every aspect of patient care and performs all post-op checks and filler treatments himself. He is a trained injector and has experience using each product we offer. He will use his deep understanding of facial anatomy to create natural-looking facial enhancement.
Smooth wrinkles away with injectable fillers in the Washington, D.C. area.  Dr. Adam Singleton is a trained injector and is ready to help you look your best. Call to schedule your face filler treatment.