Natural Looking Blepharoplasty Results in Chevy Chase & the Washington, DC areas
The eyes convey your personality, energy, and youth. The eyelids, in turn, impact the eyes' appearance. When eyelids lose their youthful tightness, you can look tired and aged. Droopy eyelids can even interfere with your vision. 
Eyelid surgery (blepharoplasty) removes loose skin, returning your eyes to their previous brightness. If you have questions about eyelid rejuvenation procedures in the Chevy Chase and the D.C. area, feel free to call 240-630-8175 or leave a message for us on our online form with your questions.
Sagging, drooping, and puffy eyelids can make a patient look tired and worn out. Blepharoplasty, also known as eyelid surgery or an eyelid lift, is a type of facial plastic surgery to restore the eyelid area. It can treat the upper eyelids, the lower eyelids, or both, addressing common signs of facial aging like:
Fat bags under the eyes
Puffy eyelids
Drooping skin that hangs over the eyes and obstructs vision
Lines and wrinkles on the lower eyelid
Saggy upper or lower eyelids
Blepharoplasty can freshen up the appearance and produce a rested, rejuvenated look. This procedure isn't just cosmetic. Some patients notice an improvement in their vision after an eyelid lift since sagging skin can partially block vision.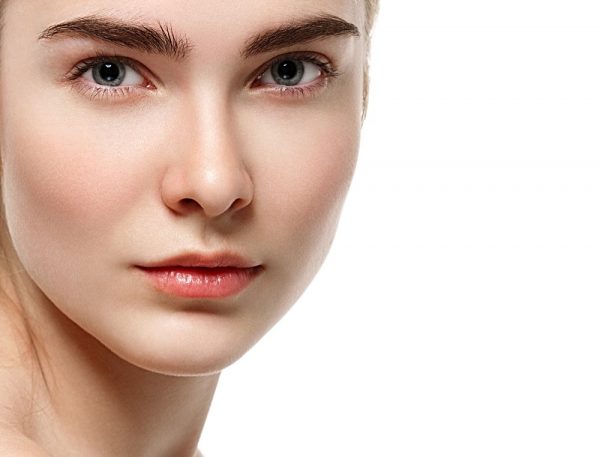 Your Blepharoplasty Consultation
Anyone considering an eyelid lift procedure in the Washington, D.C. area should call our office to schedule a consultation with facial plastic surgeon Dr. Adam Singleton. Making the decision to undergo cosmetic enhancements can be difficult, and a consultation provides the information patients need to make an educated choice. During our eyelid surgery consultation you'll:
Receive an in-depth examination to determine the best treatment options for your facial concerns
Discuss your goals for surgery and your desired appearance
Discover the best treatment options for rejuvenating the eye area
Learn about cost and financing options available for blepharoplasty patients
Be able to ask questions and get answers from a trained facial plastic surgeon
Meet the staff at Capital Facial Plastic Surgery
Our consultations are designed to provide information to each patient, not pressure. We want you to choose blepharoplasty because it is the best fit for your goals. Whether you choose surgery or not, we encourage you to come in and learn more. Information is essential to making an informed choice about eyelid surgery.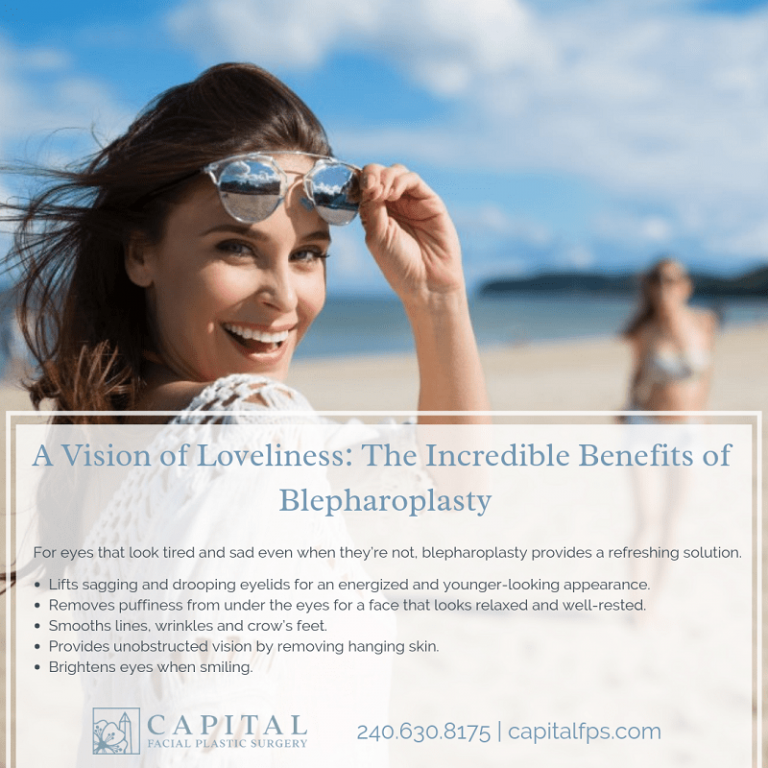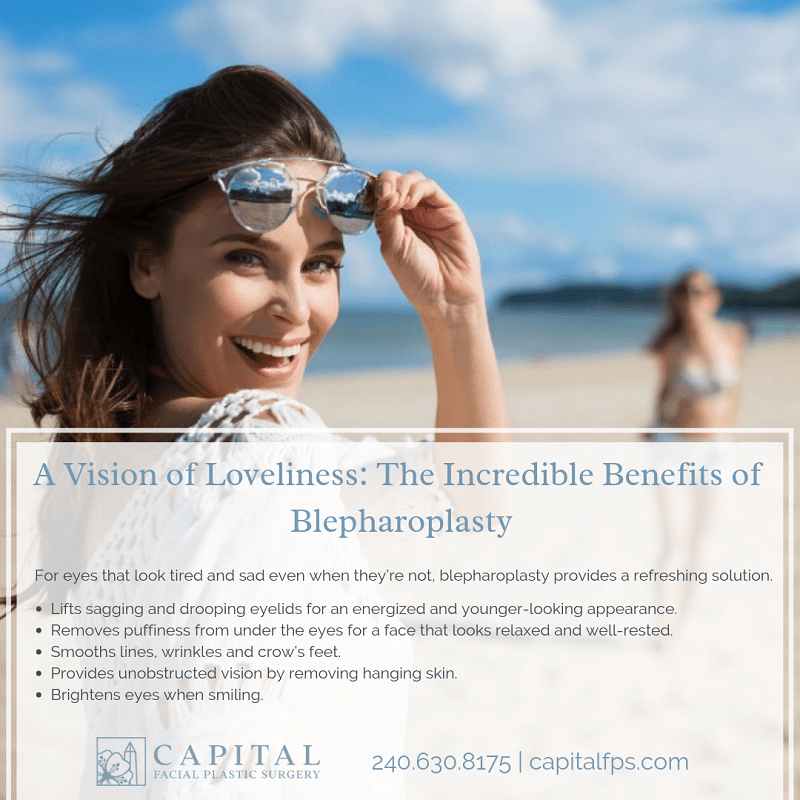 What Happens During Eyelid Surgery?
We perform the majority of our eyelid lift procedures in an offsite surgical center, located nearby our office. This surgery is an outpatient procedure, so patients recover at home in a familiar and comfortable setting.
You'll arrive at the surgical center on the morning of surgery. Someone will need to bring you as you won't be able to drive yourself home. As we prepare for eyelid surgery you'll:
Meet the surgical staff including anesthesiologists and nurses
Review your treatment goals again with Dr. Singleton
Ask any final questions
Be marked with surgical markings as needed
Move into the surgical suite
We start the procedure with anesthesia, either local or general anesthetic, to ensure comfort throughout surgery. We believe in a customized approach to surgery. Your needs and anatomy are thoughtfully considered as we plan and execute your procedure. The techniques used will be determined by your specific eyelid concerns:
Transconjunctival Incision
A transconjunctival incision is placed on the inner lower eyelid, completely hidden from view. This approach is ideal for patients with fat bags under the eyes and without excess skin.
Transcutaneous Incision
Upper Eyelid Incision
We can perform treatment on the upper eyelids, lower eyelids, or both. We typically treat both eyelids to ensure a symmetrical and balanced facial appearance. Eyelid surgery is often paired with other facial plastic surgery procedures including facelift and brow lift.
In some situations, the upper eyelid surgery can be performed in the office. Using some anti-anxiety medications given by mouth as well as local anesthesia in the surgical area, the procedure can be performed on a comfortably awake patient with minimal to no discomfort
Recovery After Blepharoplasty
Patients heal quickly after this procedure. Most take 1-2 weeks off from work and limit strenuous activities for 3-4 weeks. If you wear contacts, you won't be able to use them for the first few weeks. Wait until Dr. Singleton tells you to it is safe to resume exercise or contact use.
At first your eyes may feel dry and tight. We'll provide prescriptions for eye drops and ointments as needed. Elevate your head to reduce swelling. Rest as much as you can the first day and then slowly introduce activities again. Gentle walking starting on day 2 can increase blood flow and help the body to heal.
We'll meet with you multiple times during recovery and look forward to seeing your results!
Frequently Asked Questions About Cosmetic Eyelid Surgery
Why Choose Dr. Singleton for Eyelid Surgery in the D.C. area?
Eyelid surgery can dramatically enhance appearance, helping patients to look years younger and more refreshed. Dr. Singleton is proud to offer facial plastic surgery services, including eyelid surgery, to patients throughout the metropolitan D.C. area, including Chevy Chase and Bethesda. While there are many great plastic surgeons in the area, we recommend choosing Dr. Singleton because he:
Uses the Latest Techniques: Dr. Singleton is trained in many of the latest facial surgery techniques and uses these methods to obtain stunning, natural-looking results for his patients.
Is Personally Present Throughout the Surgical Process: Dr. Singleton will be involved in your procedure from beginning to end. Unlike many practices that outsource post-operative checks to nurse practitioners, Dr. Singleton performs these checks himself. You'll receive personalized attention from your surgeon at every visit.
Focuses on the Patient: We know you're busy and won't waste your time. We strive to ensure that all patients are seen on time, treated with respect, and given sufficient time to ask questions.
Eyelid surgery at Capital Facial Plastic Surgery is a unique and enjoyable experience for many of our patients. Come in for a consultation to experience our one-of-a-kind approach to plastic surgery.
If you have any questions about a procedure or wish to schedule a consultation with Dr. Singleton, please contact our office.
Schedule a Consultation
If you have any questions about a procedure or wish to schedule a consultation with Dr. Singleton, please contact our office.