A Better Profile with Neck Liposuction in Chevy Chase & Washington, D.C.
Excess fat in the neck and under the chin is a common complaint from many of our patients. Fat in these areas can make you look older or heavier. We offer neck liposuction to remove this unwanted fat and to restore a more attractive neck silhouette. Call our Chevy Chase office to learn more about this treatment or to schedule a consultation with our fellowship-trained facial plastic surgeon, Dr. Adam Singleton.
Excess Fat in the Neck: Not Always a Sign of Being Overweight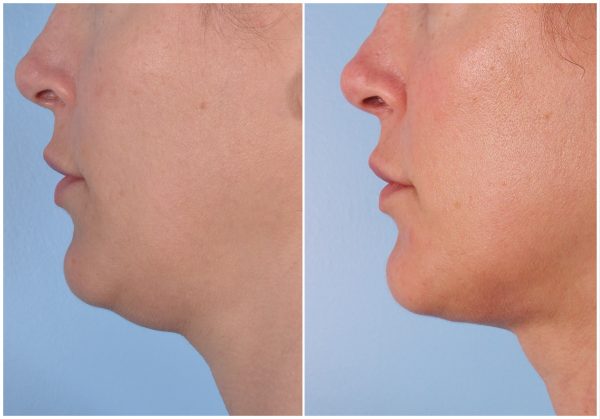 Excess fat can happen to the best of us. Many of our liposuction patients are at a healthy weight but still struggle with stubborn fat. When fat occurs in the neck and chin area, it can be very difficult to lose using traditional methods. Liposuction of the neck area can correct the appearance of submental fullness, or a double chin.
Your Neck Liposuction Consultation: What to Expect
Anyone considering neck liposuction should schedule a consultation with a trained facial plastic surgeon like Dr. Singleton. Our consultations are an informative experience for the patient, offering detailed insight into the procedure. Dr. Singleton makes treatment recommendations, explores different options for surgery, and answers questions. You'll also learn if you're a good candidate for the procedure and will get information about cost and financing options.
Don't worry about feeling forced or pressured into a procedure. We simply provide information and let patients choose for themselves. You can easily schedule your consultation by calling our offices. We serve patients throughout the Washington, D.C. area including those in Bethesda and Chevy Chase.
What Happens During a Neck Liposuction Procedure?
We perform all liposuction treatments at an off-site surgical center, located in close proximity to our office. On the day of your treatment you'll arrive in the morning and check in for your procedure. Before we take you back into the operating room, you'll have the opportunity to meet your surgical staff including the anesthesiologist and nurses. Dr. Singleton will be there too.
You'll have one last pre-op meeting with your surgeon. Surgical markings will be made if needed. We'll also review recovery information and surgical goals, to make sure everyone is on the same page. Ask any questions you may have about the procedure or the recovery process before we begin.
When we're ready, you'll head into the operating room for your neck liposuction procedure. Anesthesia will be administered as needed. Some patients will only require a local anesthetic and perhaps a sedative. Other patients may receive general anesthesia, especially if liposuction is being performed in conjunction with other treatments. Whether you receive local or general anesthesia, you won't feel pain or discomfort during the procedure.
Small incisions are made near the neck and chin. These are carefully placed to minimize and hide scars. Dr. Singleton will insert a thin tube, called a cannula, into the incisions and will use suction to remove unwanted fat. He takes his time to ensure a smooth, even result. After the area is shaped, the neck is wrapped in bandaging.
Patients typically return home the same day as their neck liposuction treatment. You'll return the day after treatment to our offices so Dr. Singleton can check your healing progress.
Recovery After Neck Liposuction
When neck liposuction is performed on its own, recovery time is minimal. Many patients are back to many regular activities in just a few days. If you work at a desk job, plan on taking about a week off from work. Dr. Singleton will help you decide when you're ready to resume exercise and strenuous activities, but most patients require 2-3 weeks before resuming these activities.
The first day of recovery will require a lot of rest. When you arrive at home after your procedure, get in bed and try to sleep. Your body needs to recover from surgery and rest is essential. Starting on day 2, get up and move around. We encourage gentle walking as this gets blood flowing and provides important healing benefits during recovery. Post-procedure symptoms usually peak 2-3 days after surgery and improve rapidly after that.
Neck Liposuction vs. Kybella®
For patients desiring less fat under the chin, we offer two treatment options: neck liposuction and non-surgical Kybella®. Both treatments can effectively reduce the amount of fat in the area and both offer long-lasting results.
Each treatment offers unique benefits which we'll discuss in more depth during your consultation including:
Neck Liposuction
Liposuction allows for customized shaping and contouring, and it is our most effective option for treating stubborn fat under the chin and on the neck. Dr. Singleton manually removes unwanted fat and has complete control of fat removal during the procedure. Only one treatment is needed for long-lasting results. Patients see results immediately after treatment.
Kybella®
Schedule your consultation
at Capital Facial Plastic Surgery to get personalized treatment advice from our skilled plastic surgeon Dr. Singleton.
Complementary Facial Plastic Surgery Procedures
Neck liposuction can be performed alone but is often paired with other facial procedures. Dr. Singleton can recommend treatments that complement the effects of neck contouring, including:
Am I a Good Candidate for Neck Liposuction?
Come in for a consultation to determine if you're a good candidate for this procedure. Ideally, patients who receive neck liposuction are:
In good overall health
Struggling with excess fat under the chin and on the neck
Ready to commit to surgery and recovery
Seeking long-lasting fat reduction
If you're interested in learning more, come in and meet with us. We would love to explain the procedure and answer any questions you may have. It is easy to schedule a consultation. Just
give us a call
and we'll set up your first visit to our practice.
If you have any questions about a procedure or wish to schedule a consultation with Dr. Singleton, please contact our office.
Schedule a Consultation
If you have any questions about a procedure or wish to schedule a consultation with Dr. Singleton, please contact our office.
Frequently Asked Questions About Neck Liposuction
Every neck liposuction consultation we offer includes time for questions and answers. We encourage patients to make a list of their questions and bring it to their initial consultation. Find the answers to the most commonly asked questions below.