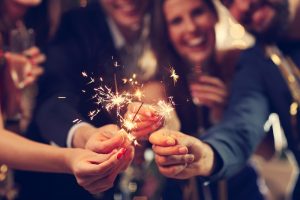 The year isn't over yet, but we're already looking forward to 2019. Capital Facial Plastic Surgery will open its doors and start seeing patients in January 2019, and we can't wait. As you start planning for the new year, we hope that a visit to our facial plastic surgery office is on your list. We can help you turn those cosmetic New Year's resolutions into reality. Call 240-630-2449 to schedule your treatments for early 2019. We're not open yet, but you can start scheduling appointments now. It's never too early to start planning your resolutions.
I Resolve to Look Younger
Time marches on, and for many patients that means wrinkles, sagging, and skin changes. If you're dreaming of turning back the clock, resolve to look younger in 2019. We offer many facial cosmetic treatments to rejuvenate your appearance from brow to chin. Dr. Singleton will happily sit down with you and discuss options.
I Resolve to Take Better Care of My Skin
Good skin care starts at home. If you've been slacking on sunscreen, moisturizer, or cleansing, resolve to start anew in 2019. Our in-office treatments can help you to reverse sun damage and brighten skin. Chemical peels and laser resurfacing are ideal for treating damage, especially our deeper peels. We also recommend peels for regular skin maintenance. A superficial peel every month or two can keep your skin looking bright and beautiful. In addition, we offer physician grade skin care to help with keeping your skin beautiful before, during and after treatments.
What are your cosmetic resolutions? How can we make them into reality?
Our Resolutions for 2019
We've got resolutions too, and we'll share them with you. We resolve to provide our patients with the best possible facial plastic surgery care throughout 2019 and beyond. Our surgeon, Dr. Adam Singleton resolves to listen to our patients, addressing concerns, answering questions, and working together to find treatment solutions. We also resolve to do things differently than other plastic surgery practices. We don't want our patients to feel like they are one of many or unimportant. We want each patient to know that they matter to us. We vow to see our patients on time and to give each one the time and attention they deserve.
Come see us in 2019! We look forward to providing patients with top quality facial plastic surgery care in the Chevy Chase area.