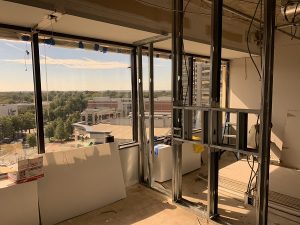 We love new beginnings at Capital Facial Plastic Surgery. In fact, our practice is built on the promise of a new look. We're creating fresh starts with facial rejuvenation in Chevy Chase and beyond with the opening of our upscale plastic surgery practice in January 2019. Join us for our new beginning and we'll help you create yours.
Hometown Plastic Surgeon Offering Cutting-Edge Techniques – Meet Dr. Adam Singleton
Dr. Singleton is the founding surgeon of Capital Facial Plastic Surgery. He created the vision for our practice and works tirelessly each day to ensure our office is a place where patients feel welcome, empowered, and pampered. Our patients see Dr. Singleton each visit, as he performs all pre and post-op checks and all injectable and laser treatments himself.
Dr. Singleton's passion for medicine developed as a boy after experiencing multiple orthopedic injuries. He saw first-hand how surgery improved the quality of his life and wanted to change other lives in a similar way through aesthetic medicine. After growing up in Bethesda, MD and graduating from Winston Churchill High School in Potomac, he ventured away from his beloved hometown for college, surgical residency, and advanced plastic surgery training.
It has always been Dr. Singleton's dream to return home and share his world-class training and cutting-edge medical techniques, honed during this time away from D.C, with men and women in his childhood community. Our office serves patients from the entire D.C. area – from Bethesda to Silver Spring, and all other surrounding areas.
What Treatments Will Be Available at Capital Facial Plastic Surgery?
Dr. Singleton specializes in facial plastic surgery and will offer a variety of surgical and non-surgical procedures for the face and neck. We look forward to helping you find the right treatments for your aesthetic goals and lifestyle.
Surgical Options
Cosmetic surgical procedures can provide dramatic transformations. Our surgical offerings produce natural looking results that can last for years. Our treatments include:
Dr. Singleton uses the latest techniques for each surgical procedure he offers. His years of training ensure the best possible results for each patient.
Non-Surgical Options
Our non-surgical cosmetic treatments are ideal for patients that want to minimize downtime. These procedures can be used to delay invasive procedures or to maintain results from a prior cosmetic surgery. Our non-surgical options include:
Dr. Singleton never outsources injectable or laser treatments to a nurse. He'll personally administer all Botox®, Xeomin®, Kybella®, filler, and laser treatments. We want you to develop a relationship with your doctor, and relationships are best built by working together to achieve a common goal. Our goal is your beauty.
We're excited to open our doors soon and provide the Chevy Chase area with facial plastic surgery excellence. We look forward to meeting you in January 2019!